Posmemoria, traducción y montaje del recuerdo
Mario Panico

Universidad de Bolonia, Italia
Palabras clave:
posmemoria, filmaciones de familia, traducción
Resumen
El objetivo de este trabajo es mostrar cómo la posmemoria, es decir, el proceso de transmisión generacional de un recuerdo, está estrechamente ligado a los conceptos de traducción y de reescritura. Para confirmar esta tesis el autor se sirve del análisis del documental El silencio es un cuerpo que cae (2017), escrito y dirigido por la cineasta argentina Agustina Comedi. El producto, un ejemplo de found footage, que utiliza como material de partida las filmaciones familiares amateurs, entrelaza memorias privadas y memorias colectivas con reflexiones sobre las distintas modalidades —no clásicamente familiares— de la transmisión generacional en torno a la memoria de la homosexualidad. 
Citas
Amado, A. (2009). La imagen justa: cine argentino y política (1980-2007). Buenos Aires. Colihue.
Bertozzi, M. (2012). Recycled cinema. Immagini perdute, visioni ritrovate. Venecia. Marsilio.
Bertrand, D. (2002). Basi di semiotica letteraria. Roma. Meltemi.
Bourdieu, P. (1972). La definizione sociale della fotografia. En P. Bourdieu (Ed.). La fotografia. Usi e funzioni
sociali di un'arte media. Rimini. Guaraldi (Original publicado en 1965).
Cati, A. (2013). Immagini della memoria. Teorie e Pratiche del ricordo tra testimonianza, genealogia,
documentari. Milán; Udine. Mimesis Edizioni.
De Lauretis, T. (1991). Queer Theory: Lesbian and Gay Sexualities - An Introduction. Differences: a Journal of
Feminist Cultural Studies, 3(2), iii-xviii.
Demaria, C. (2006). Semiotica e Memoria. Analisi del post-conflitto. Roma. Carocci.
______ (2011, agosto). Documentary turn? La cultura visuale, il documentario e la testimonianza del "reale". Studi
Culturali, 7(2), 155- 176.
______ (2012). Il trauma, l'archivio e il testimone. La semiotica, il documentario e la rappresentazione del "reale".
Bolonia. BUP.
Dusi, N. (2000). Introduzione. Per una ridefinizione della traduzione intersemiotica. Versus. Quaderni di studi
semiotici, monografico: La traduzione intersemiotica, (85-86-87), 3-54.
Eco, U. (1975). Trattato di Semiotica Generale. Milán. Bompiani.
______ (1984). Semiotica e filosofia del linguaggio. Turín. Einaudi.
______ (1997). Kant e l'ornitorinco. Milán. Bompiani.
______ (2003). Dire quasi la stessa cosa. Milán. Bompiani.
______ (2006). A passo di Gambero. Milán. Bompiani.
______ (2007). Dall'albero al Labirinto Studi Storici sul Segno e l'Interpretazione. Milán. Bompiani.
Estay Stange, V. (2018). Charla en videoconferencia "Semiótica y Postmemoria" [Archivo de video].
https://www.youtube.com/watch?v=DurHBW1ew5o
Goldfine, D. (2015). La postmemoria del silencio: Transmisión truncada y elipsis tangibles en la obra de Manuela Fingueret y Sergio Chejfec. E.I.A.L., 26(1), 91-110.
Halbwachs, M. (1925). Les cadres sociaux de la mémoire. París. Alcan.
______ (1950). La mémoire collective. París. PUF.
Hirsch, M. (2002). Family Frames: Photography, Narrative, and Postmemory. Cambridge, Mass. Harvard
University Press. (Original publicado en 1997).
______ (2012). The Generation of Postmemory: Writing and Visual Culture After the Holocaust. Nueva York. CUP.
Jakobson, R. (1963). Essais de linguistique générale. París. Editions de Minuit.
Kuhn, A. (2010). Memory Texts and Memory Work: Performances of Memory in and with Visual Media.Memory
Studies, 3(4), 298-313.
Landsberg, A. (2004). Prosthetic Memory. The Transformation of American Remembrance in the Age of Mass
Culture. Nueva York. Columbia University Press.
Lazzara, M. J. (2009). Pinochet's Cadaver as Ruin and Palimpsest. En M. J. Lazzara & V. Unruh (Eds.). Tellin Ruins
in Latin America (pp. 121-134). Nueva York. Palgrave Macmillan.
Lorusso, A. M. (2010). Semiotica della Cultura. Roma; Bari. Laterza.
Lotman, J. M. (1979). Introduzione alla semiotica del cinema. Roma. Officina.
______ (1985). La semiosfera. L'asimmetria e il dialogo nelle strutture pensanti. Venecia. Marsilio.
______ (1993). La cultura e l'esplosione. Milán. Feltrinelli.
______ (1994). Cercare la strada. Modelli della cultura. Venecia. Marsilio.
______ (2006). Tesi per una semiotica delle culture. A cura di Franciscu Sedda. Roma. Meltemi.
______ & Uspenskij, Boris A. (1975). Tipologia della cultura. Milán. Bompiani.
Maguire, G. (2017). The Politics of Postmemory: Violence and Victimhood in Contemporary Argentine Culture.
Basingstoke. Palgrave Macmillan.
Marrone, G. (2010). L'invenzione del testo. Roma; Bari. Laterza.
Marin, L. (2005). Politiques de la représentation. París. Kimé.
Mazzucchelli, F. (2010). Urbicidio. Il senso dei luoghi tra distruzioni e ricostruzioni in ex-Jugoslavia. Bolonia. BUP.
Nouzeilles, G. (2005). Postmemory Cinema and the Future of the Past in Albertina Carri's Los Rubios. Journal of
Latin American Cultural Studies, 14(3), 263-278.
Osimo, B. (2018). Manuale di Traduzione di Juri Lotman. Pavia. Blonk.
Pezzini, I. (2008). Immagini quotidiane. Sociosemiotica visuale. Roma. Laterza.
Raczymow, H. (1994). Memory Shot Through with Holes. Yale French Studies, 85, 98-105.
Ricœur, P. (2004). Ricordare, dimenticare, perdonare. L'enigma del passato. Bolonia. Il Mulino.
Ros, A. (2012). The Post-Dictatorship Generation in Argentina, Chile, and Uruguay: Collective Memory and
Cultural Production. Nueva York. Palgrave Macmillan.
Salerno, D. (2017). The Closet, the Terror, the Archive: Confession and Testimony in LGTB Memories of Argentine State Terrorism. En A. Sharman, M. Grass Kleiner, A. M. Lorusso y S. Savoini (Eds.), MemoSur/MemoSouth. Memory, Commemoration and Trauma in Post-Dictatorship Argentina and Chile. Londres. Critical, Cultural and
Communication Press, 181-194.
______ (2018, marzo). Per una semiotica degli eventi. Analisi del caso "Ustica". Ocula, 19. https://www.ocula.it/files/OCULA-FluxSaggi-SALERNO-Per-una-semiotica-degli-eventi.pdf
Sarlo, B. (2005). Tiempo pasado. Cultura de la memoria y giro subjetivo. Una discusión. Buenos Aires. Siglo XXI.
Sedda, F. (2006). Introduzione. Imperfette traduzioni. En F. Sedda (Ed.). Lotman, J.M. Tesi per una semiotica delle
culture. Roma. Meltemi, 7-68.
Sosa, C. (2011). Queering Acts of Mourning in the Aftermath of Argentina's Dictatorship: The Mothers of Plaza
de Mayo and Los Rubios (2003). En V. Druliolle & F. Lessa (Eds.), The Memory of State Terrorism in the Southern Cone: Argentina, Chile, and Uruguay. Nueva York. Palgrave Macmillan, 63-85.
Violi, P. (2009). Narrazioni del sé fra autobiografia e testimonianza. E/C, Rivista on-line dell'AISS, 1-17.
______ (2014). Paesaggi della Memoria. Il Trauma, lo Spazio, la Storia. Milán. Bompiani.
Volli, U. (2015). Dalla censura alla semioetica. Lexia. Rivista di semiotica, (21-22), 15-31.
Young, J.E. (2000). Memory's Edge. New Haven. Yale University Press.
Zucconi, F. (2014). Dagli home movies al found footage cinema. Sulle tracce della cultura visuale domestica.
Lares, 80(3), 569-582.
Filmografía
Carri, A. (Directora y Guionista). Ellsworth, B. y Céspedes, M. (Productores). (2003). Los rubios [Largometraje
documental]. Argentina; Estados Unidos.
Comedi, A. (Directora y Guionista). Maristany, J. (Director). (2017). El silencio es un cuerpo que cae. Argentina. El
Calefón.
Di Tella, A. (Director). Ditella, A. y Di Tella, R. (Guionistas). La televisión y yo (notas en una libreta) [Documental].
(2002). Argentina. Cine Ojo.
Roqué, M. I. (Directora). Montiel, Gustavo (Productor). (2000). Papá Iván [Documental]. México. Centro de
Capacitación Cinematográfica; CONACULTA; FONCA.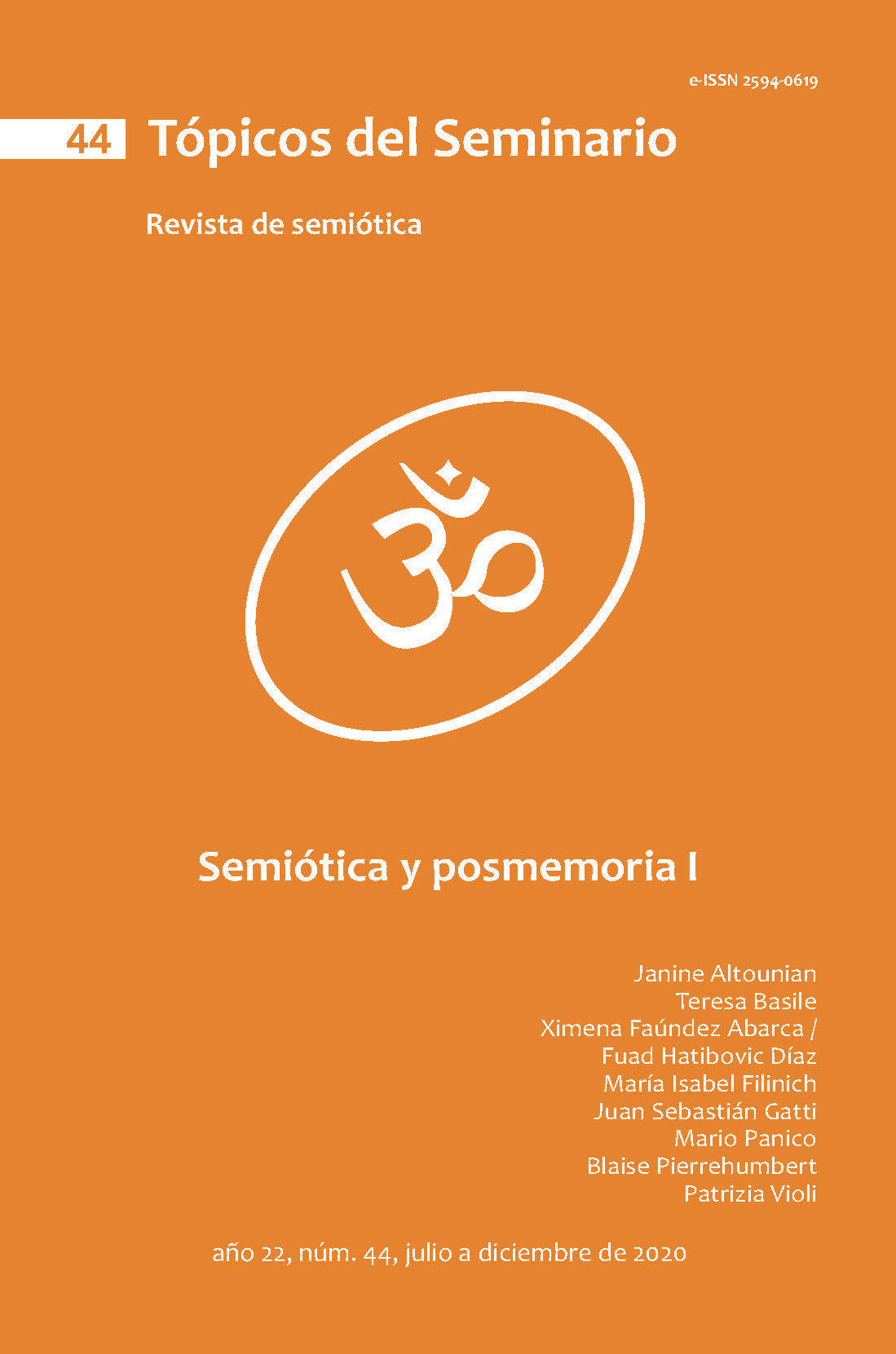 Cómo citar
Panico, M. (2020). Posmemoria, traducción y montaje del recuerdo. Tópicos Del Seminario, 2(44), 29-49. Recuperado a partir de http://topicosdelseminario.buap.mx/index.php/topsem/article/view/699
Tópicos del Seminario
is licensed under a
Creative Commons Reconocimiento-NoComercial-CompartirIgual 4.0 Internacional License
.